This Sweet Potato Quick Bread is a wonder! it really does bake up quick in just an hour. The hardest part will be letting it cool before you dig in. This dense dessert bread doesn't require any rising time or kneading. We love to call it "book club bread" because you can bake it up right before you need to go somewhere and by the time you get there, it's ready to serve! The best part is that you really don't need any special ingredients for this bread. You can top it with sunflower seeds and turbinado sugar, or raw, sugar, but if you don't have those around you can use cinnamon sugar or another sugar/nut, or sugar/spice blend. You could even ice it is you wanted to!
Sweet Potato Quick Bread is a great way to reward yourself with something that's sweet but a little healthy, too! Check out the rest of our sweet potato puree recipes here. We work directly with food bloggers to develop the best recipes for our made in USA purees. Each recipe is designed to bring out the pure, natural flavors or our organic purees and give you new ways to eat healthy food!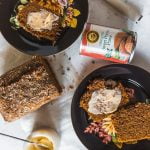 Sweet Potato Ginger Quick Bread
Ingredients
1

cup

sugar

2/3

cup

oil

1

egg plus 1 egg yolk

1

cup


Notice: Undefined variable: nofollow in /srv/users/farmersmarketfood/apps/farmersmarketfood/public/wp-content/plugins/wp-recipe-maker/includes/public/deprecated/class-wprm-template-helper.php on line 116
sweet potato puree

2

tsp

vanilla

1 ½

cup

flour

1/8

teaspoon

baking soda

½

teaspoon

salt

1

teaspoon

cinnamon

1 ½

teaspoons

ground ginger

½

teaspoon

cloves

¼

teaspoon

nutmeg

For the topping

3

tablespoons

sunflower seeds

2

tablespoons

turbinado sugar
Instructions
Grease and line a standard bread pan and preheat the oven to 325 degrees.

In a medium bowl, mix the sugar, oil, egg, egg yolk, sweet potato puree and vanilla together until incorporated. Add in the dry ingredients and mix again until a smooth batter appears. Pour into the prepared bread pan. Sprinkle with sunflower seeds and turbinado sugar.

Bake in the preheated oven for 65-70 minutes. Let cool in the pan for 15 minutes before removing. Let cool at least 3o minutes before slicing.