Organic Sweet Potato Puree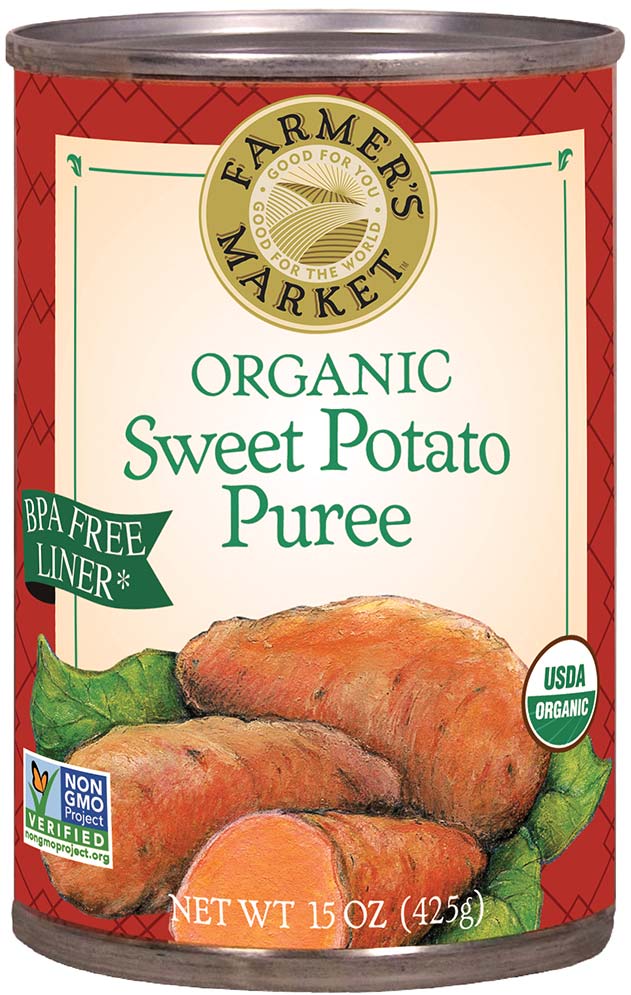 Organic Sweet Potato Puree
Not only does our Organic Sweet Potato Puree make a wonderful side or main dish, its natural sweetness lends itself to a wide variety of delicious recipes. Try sweet potato pancakes, muffins, biscuits or even bisque. We've made it easier than ever to incorporate the luscious taste of sweet potatoes in your recipes with our gourmet, canned puree.
Chef's Tip:
Dogs and cats love sweet potato too! Add a tablespoon to your pet's dry food for a healthy boost of vitamins. Alternatively, mix leftover sweet potato puree with a few tablespoons of peanut butter. Divide the mixture in ice cube trays and freeze for a healthy frozen treat!
Certified Organic Sweet Potato Puree*
*Certified Organic by Oregon Tilth
Related Recipes
Create With Farmer's Market
Our Products
Simple. Gourmet. Nutritious.
Farmer's Market Foods have the pure, fresh flavor you'd expect to find at a country produce stand. We grow the best vegetables organically, so that you can take home food that is good for you and good for the world. These rich, smooth purees are ready to use in everyday dishes from baked goods to entrées.
Featured Question
What's On Your Mind?
How long will pumpkin keep in the refrigerator after it is open?
We suggest storing it in an airtight container and consuming it within three days. Alternatively, you can portion it out into ice cube trays and freeze it. Once frozen, remove it from the tray and store in an airtight container for up to three months.
Good For You. Good For The World