You might not think pumpkin would be great in a cocktail, but ours is! This Pumpkin Bourbon Punch is a winner, too, with just four ingredients shaken to perfection on the spot. You definitely want to make sure you're using real maple syrup here, and not the flavored pancake syrup concoction. Also highly recommended, fresh apple cider from your local farmstand–you just can't beat it! Top with cinnamon sticks and star anise, and you have a lovely cocktail. This cocktail is perfect for halloween parties, Thanksgiving and Christmas gatherings. Serve in chilled glasses, or you can even make ice cubes with a pumpkin/apple cider mix so the drink won't dilute as it warms up. One tip: avoid the common shaker style cocktail mixer and use a Boston shaker. This kind won't seize up like the tiny strainer lids do, and then you use a Hawthorne strainer to strain it, which will do a much better job of keeping pulpy bits of pumpkin out of your drink.
What to serve with Pumpkin Bourbon Punch? Try our sweet potato quick bread, Sweet Potato Pie S'more Brownies, these Sweet Pecan Cakes or this Pumpkin Bourbon Cheesecake. The possibilities are really endless! Anything with cinnamon or caramel would pair well–it's up to you!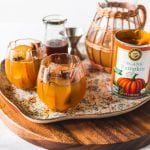 Pumpkin Bourbon Punch
Ingredients
1 1/5

oz

apple cider

1

oz

bourbon

1

tablespoon

Pumpkin

½

oz

real maple syrup

Toppings: Cinnamon sticks and star anise
Instructions
Add the ingredients into a cocktail shaker and fill with ice. Shake for about 1 minute or until the shaker is frosty. Pour over ice and serve with cinnamon sticks and star anise.