Pumpkin Bourbon Cheesecake is a classic dessert with flavors that go together like chocolate and peanut butter. The rich sweetness of the caramel mixes well with the depth of the bourbon and the pumpkin ties it all together. Nervous about making a cheesecake? Not to worry! Baking can be intimidating, but we have you covered with a few pointers. First, if an ingredient is noted as "room temperature," that' because it will mix easier that way. Cheesecakes get puffy and crack when they are overmixed, so using room-temperature ingredients where indicated will keep it smooth and dense like a cheesecake should be. Eggs can be made room temperature quickly by putting them in a glass of very warm tap water for 5-10 minutes. When mixing, add the eggs one at a time and stop mixing as soon as they are incorporated. Mix very briefly once you add the remaining ingredients, and once the filling is in the pan, tap and jiggle it until the top is flat. Air bubbles are another common cause of cheesecake cracks.
Another great tip for making cheesecakes is the water bath. Move around your oven racks so that one rack is in the middle and one is on the very bottom. Then, take a 9″ x 13″ brownie/sheet cake pan, put it on the very bottom rack and fill it half full with water. The water will create steam while your cheesecake cooks and keep it from drying out, which can also cause it to crack. Try not to peek while it's cooking–cheesecakes do not like temperature fluctuations! Finally, do not bake a cheesecake until it's set all the way through–this will result in a dry cake that will crack. Instead, when the edges are done and the center is still jiggly, turn off the oven, leaving the cheesecake inside for 15 minutes. Then, open the oven door but leave the cheesecake inside to cool further. Finally, cool on the counter until the center is set, then move to the fridge to further set for at least 4 hours.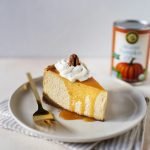 Bourbon Pumpkin Cheesecake
This savory cheesecake recipe uses Farmer's Market Organic Pumpkin puree for the most pumpkin flavor in every bite!
Total Time
1
hour
20
minutes
Ingredients
For the crust:

2 ½

cups

gingersnap cookie crumbs

½

cup

granulated sugar

½

cup

unsalted butter

melted

1

pinch

of salt

For the filling:

4 8-

ounce

packages full-fat cream cheese

room temperature

1 ½

cups

light brown sugar

lightly packed

3

tablespoons

all-purpose flour

4

large eggs

room temperature

2

large egg yolks

room temperature

2

tablespoons

bourbon

2

teaspoons

vanilla extract

1

teaspoon

ground ginger

1

teaspoon

ground cinnamon

¼

teaspoon

ground cloves

¼

teaspoon

ground nutmeg

¼

teaspoon

salt

Sweetened whipped cream

for serving

Caramel sauce

for serving

Pecans

to garnish
Instructions
Line a 9-inch springform pan with parchment paper. In a medium mixing bowl stir together the gingersnap crumbs, sugar, butter & salt until combined.

Transfer mixture to the prepared pan & shape into an even crust with a 1-inch raised edge. Refrigerate as you prepare the filling.

For the filling:

Preheat the oven to 425(f) degrees. In the bowl of a stand mixer fitted with the paddle attachment, beat together the cream cheese, brown sugar & flour until combined.

Add the eggs & egg yolks one at a time, scraping down the sides of the bowl after each addition.

Add the Farmer's Market Organic Pumpkin Puree, bourbon, vanilla, ginger, cinnamon, cloves, nutmeg & salt. Beat until smooth, about 1 minute.

Transfer filling to prepared pan & tap gently on the counter to eliminate any air bubbles. Bake for 10 minutes, reduce oven to 250(f) degrees & bake for an additional 45 to 50 minutes. The edges should be set & the center should have a little jiggle.

Turn oven off & allow cheesecake to sit for an additional 15 minutes with the oven door closed. Remove from the oven & let stand at room temperature for 30 minutes before refrigerating for a minimum of 4 hours or overnight.

When ready to serve, slice & top with a dollop of whipped cream. Drizzle with caramel sauce & garnish with pecans & enjoy!