Butternut Squash Pie has a similar flavor profile as pumpkin, and this pie uses many of the same spices. But you'll love this slightly different flavor. It will definitely make your guests ask, "What's in this?" Many people actually prefer butternut squash to pumpkin in blind taste tests because the consistency of squash is more even. You can make this pie ahead of time, and you'll definitely want to blind-bake the crust for Butternut Squash Pie as you would for any pie with creamy filling. Blind baking ensures the bottom of the crust bakes through and doesn't end up soggy, and keeps the crust from shrinking. Want more pie tips? Check out our blog.
Butternut squash is a great source of vitamin A, potassium, and manganese. It also contains other vitamins and minerals that are essential for good health. Our butternut squash is grown in the USA, using organic and sustainable farming practices. We never use GMOs, and our products are always vegan and gluten free. We were the first company to put BPA-free liners in our cans because we care so much about the quality of our product. Have you tried all our organic purees? They're great in baked goods, sauces, soups and more.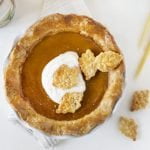 Butternut Squash Pie
Ingredients
1

nine-inch unbaked pie crust

store-bought or homemade

15

ounces

1 can Farmers Market Foods Butternut Squash Puree

1

cup

light brown sugar

packed

3

large eggs

whisked

1

cup

whipping cream

1

teaspoon

pure vanilla extract

1

teaspoon

ground ginger

1

teaspoon

ground cinnamon

1/4

teaspoon

ground nutmeg

1/4

teaspoon

fine salt

Whipped cream

for serving
Instructions
Preheat the oven to 400(f) degrees. Chill prepared crust until ready to bake.

In a large mixing bowl add the squash, sugar, eggs, cream, vanilla, ginger, cinnamon, nutmeg & salt. Whisk until well blended, about 60 seconds.

Transfer mixture to prepared pie crust & bake for 15 minutes. Lower heat to 350(f) degrees & continue baking until the edges have set but the center is still jiggly.

Let cool to room temperature before refrigerating. Allow the pie to cool for 4 to 6 hours until serving.

Top with whipped cream & a pinch of ground nutmeg. Enjoy!