We at Farmer's Market Foods always get calls relating to baking starting around mid-October, and this year is no different. So we thought we would help everyone out and publish the definitive perfect-pie post with all the best tips and tricks that we get asked about every year. 
1. Should I bake the crust first? Whether you make your own crust or go store-bought, you don't want the bottom middle to be soft and underbaked. For the perfect, crisp crust all the way through, you have to blind-bake, or par-bake, your crust. This is just a fancy term that means pre-bake. If you buy your crust, the package will have directions on how to pre-bake it before the filling goes in. If you make your crust, you can generally bake it at 375 for about 15 minutes. You need to blind bake any item with a mushy filling–quiche, fruit pies, and no-bake pies.
2. How do I keep my crust from shrinking? This is a common problem! There are a few solutions: 
Chill your crust before baking – Chill for at least 30 minutes and up to 5 days.

Use pie weights – Put parchment paper over the center of the pie, then put in dry beans during the par bake to hold the crust in place. Remove the beans a few minutes before you take it out. 

Build up the sides – Take some dough from another pie crust, and use a cutter to slice rounded 1- or 2-inch strips, and arrange around the edges. Use your fingers to mesh the crusts together. Flute the edges.
3. What kind of pie dish should I use? Glass pans are best for pies, because it conducts heat more slowly and evenly than a metal or aluminum pie pan. During the holidays you can usually find simple glass pie dishes at any grocery store for under $10. If you are using a premade crust, just stick the whole thing in a glass dish. This will also keep the aluminum pan from buckling when you remove it from the oven.
4. Should I use pumpkin pie mix or canned pumpkin puree? It's up to you, but follow the recipe you're using. If you use pie mix when it calls for pumpkin puree, the sugar and spices will be off. We add organic spices and some sugar to our Organic Pumpkin Pie Mix, but we don't add water, sugar, salt, or anything else to our Organic Pumpkin Puree. It's just pumpkin!  
5. Can I substitute half-and-half for evaporated milk? You can! Some people would rather use a whole food rather than processed, and that won't impact your pie. Use the same amount of half and half in your recipe where it calls for evaporated milk. 
6. How do I make my pie dairy-free? Use plant-based milk to substitute for evaporated milk. Canned coconut milk can be used as a replacement–use the same amount of coconut milk as the recipe calls for evaporated milk. Use a shortening-only crust recipe if you're making your own pie crust. 
7. Can I make my pie gluten-free? Yes! Farmer's Market Organic Pumpkin Puree is already gluten-free, so the only thing you need to change is the pie crust. Nut-based pie crusts are a great option if no one has nut allergies.
8. Can I make my pie vegan? Yes again! Use coconut milk in place of the evaporated milk, and egg replacer for the eggs. You can also use our recipe here: http://farmersmarketfoods.com/recipes/vegan-pumpkin-pie-2/ 
9. How do I know when my pie is done? Since every oven is a little different, you always want to watch a pie closely about 5-10 minutes before the end timer. We know this can be challenging when you're multi-tasking, but we don't make the rules. Here are a few doneness signs to watch for: 
The edges of the filling will be slightly domed, while the middle might still be a bit sunken in.
When you give the pie a gentle nudge, there should still be a bit of movement in the middle: look for a jiggle, but no sloshing.
A knife inserted about an inch from the center should come out clean.
You could also use an instant-read thermometer to check if the filling has reached 170°F.

 
10. Help! My pie isn't set! There are a few things you can do here:
Cover the pie with foil and bake it at 425°F, checking after 15 minutes.

Allow your pie to cool for 2-4 hours before slicing

Neither of these work? Make it a sundae! Scoop ice cream into parfait cups and put scoops of pie crust and filling on top. Top with whipped cream.
11. My pie is weeping. What do I do?
Use a paper towel to blot off the moisture. This usually happens because the pie was overbaked or put in the fridge before it was fully cooled. Luckily, it's mostly cosmetic. To prevent weeping, cool on the counter 2-4 hours before moving to the fridge.
12. Can my pet have pumpkin pie? You'd be surprised how often we get asked this!  But no, pets should not have pumpkin pie or pumpkin pie mix or any other food that has nutmeg in it. contains a compound called myristicin, which is toxic to pets.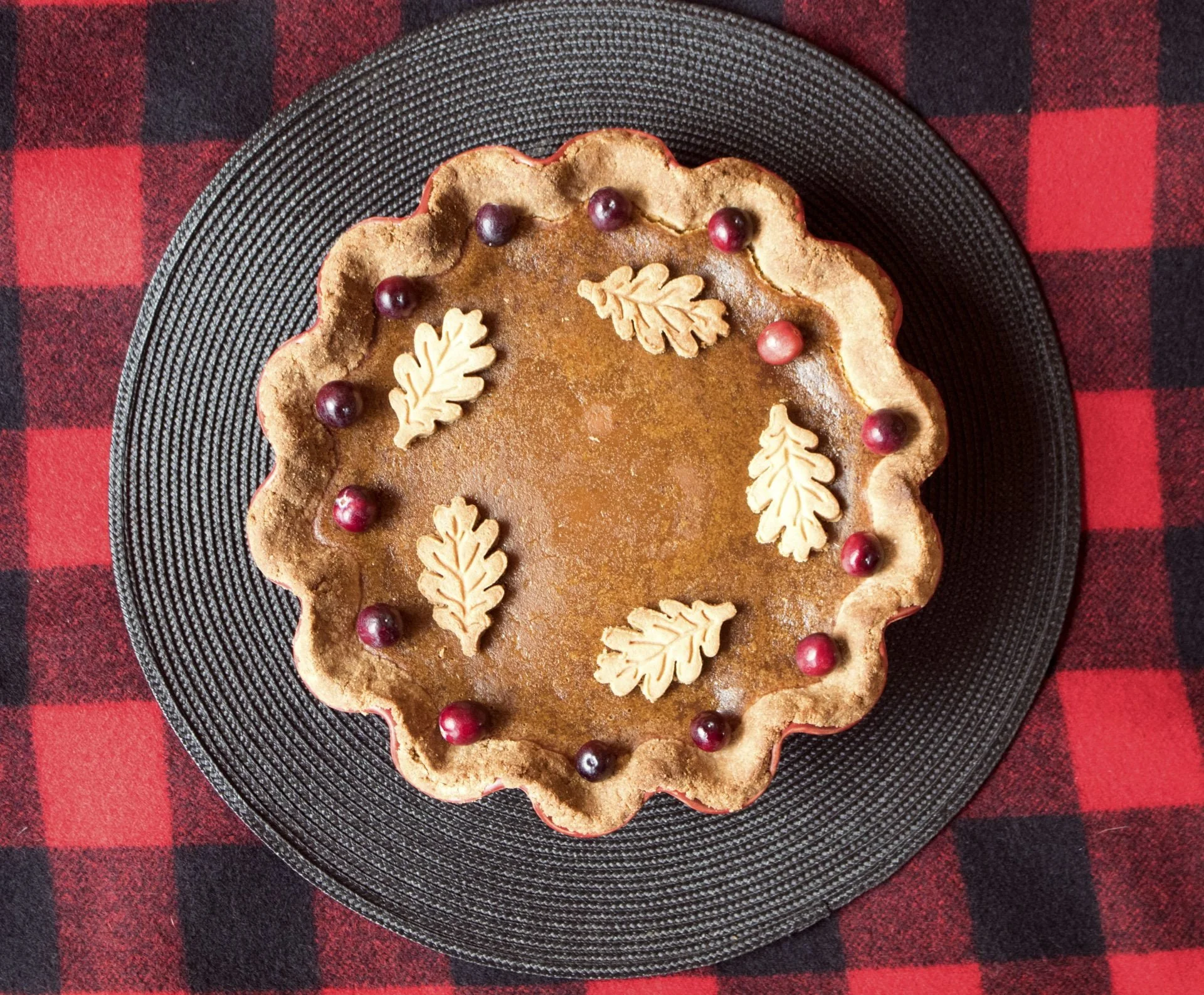 However, plain pumpkin puree with nothing else added is great for pet health as a food supplement. We actually can some of our pumpkin puree for this exact reason! You can find it at NummyTumTum.com along with serving size guidance for your pet by weight. Of course, it's perfectly safe to feed them our Organic Pumpkin Puree with nothing else added. 
One great thing about pumpkin pie is that it can be served warm, cold, or anything in between! So put this one in your "make ahead" column for big holidays and it can be one less thing to stress over. 
Got a pie question for us? Tag us on social! @StahlbushIslandFarms