We'll admit it: Making your own ravioli is not easy. It's a lot of work! But if you've ever had homemade pasta, you know it's worth the time. Having a pasta machine and a ravioli maker is a huge time saver in this Butternut Ravioli recipe, but you can still do it without any fancy equipment. Our Organic Butternut Squash Puree is a showstopper in this Butternut Ravioli. It's filling, providing texture and a beautiful backdrop for the browned butter and sage sauce. It's also a great choice to partner with pasta because butternut adds additional fiber, vitamins, and minerals while also being low calorie and low fat.
Butternut squash isn't just great in pasta! You can also add it to tomato-based pasta sauces to help cut the acidity of the tomatoes if you're sensitive to that. You can add it to cream sauces in place of some of the heavy cream to make them lower in fat while keeping the consistency. Add it to smoothies and smoothie bowls as a dairy-free thickener. Its mild flavor means it doesn't change the overall profile too much and you're able to keep the consistency you want while eliminating extra dairy and calories.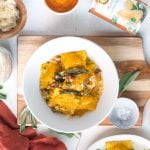 Butternut Ravioli With Sage Brown Butter Sauce
Ingredients
Dough
2 ½

cups

of 00 flour ** you can use all-purpose or semolina flour here

but I prefer the 00 flour it provides the best texture.

Sprinkle of sea salt

1

tablespoon

olive oil

2

whole eggs

4

egg yolks
Filling
8

oz

ricotta cheese

1

cup

parmesan cheese

1

teaspoon

finely chopped sage

1

egg

1 ½

teaspoons

salt

Pepper to taste
Sauce
¾

cup

butter

6-8

leaves

sage

2

cloves

minced garlic

Salt and pepper to taste
Instructions
** For rolling out the dough we used a pasta maker and a ravioli press. You could use a rolling pin for this as well; it just requires a bit more effort.
For making the dough, use a clean counter top. Create a mound with your flour. Make a well in the middle of the mound and add the eggs, egg yolks, salt and olive oil.

Using a fork, break up the egg yolks and slowly start swirling in the flour in a little at a time. Keep mixing in the flour until the dough becomes difficult to mix. Use a bench scraper to scrape the dough together into a ball.

Knead the dough until it smooth and elastic. When you press your finger down, the dough will bounce back. Cover the dough and allow it to rest for 30 minutes.
Make the filling for the dough
Using a medium-sized saucepan, cook the spinach over medium heat until the spinach has fully cooked down. Using a fine mesh strainer strain press all of the water out and set aside.

In a large bowl, mix together softened cream cheese, butternut squash puree, and ricotta.

Add in spices, lemon zest, and parmesan cheese. Mix well.

Add in the egg and mix well. Finally, fold in the spinach.

Put the mixture in the fridge to chill.
To make the pasta
Once you've allowed your dough to rest cut into 4 pieces.

Using once piece of dough at time, keeping the rest of the dough covered, roll it out slightly to form a small rectangle. Set your pasta maker to 0 and roll the dough out 2-3 times.

Change the setting to 1 and roll out again. Continue rolling the dough through your pasta maker, increasing the setting each time, until you reach setting 5. By this time your dough should be rather long.

Cut in half. If using a ravioli mold lay one piece down over the mold and follow the instructions for using your mold. Add your filling and press the mold down, cut your ravioli out. Allow the ravioli to dry on a floured cookie sheet for at least 30 minutes - an hour. Repeat this process until done.

Once the ravioli has sat for 30 minutes, prepare a large pot of water and bring to a boil over medium heat. Once the water is boiling add the ravioli and cook for 3-4 minutes or until at your desired doneness.
For the sauce
Add the butter, rosemary, and garlic to a medium-sized saucepan and cook over medium heat, swirling occasionally to prevent the butter from burning. Once the butter starts to brown, about 5-7 minutes, remove from heat and discard the rosemary. Season with salt and pepper.

Add the ravioli to a bowl and top brown butter sage infused sauce and enjoy.