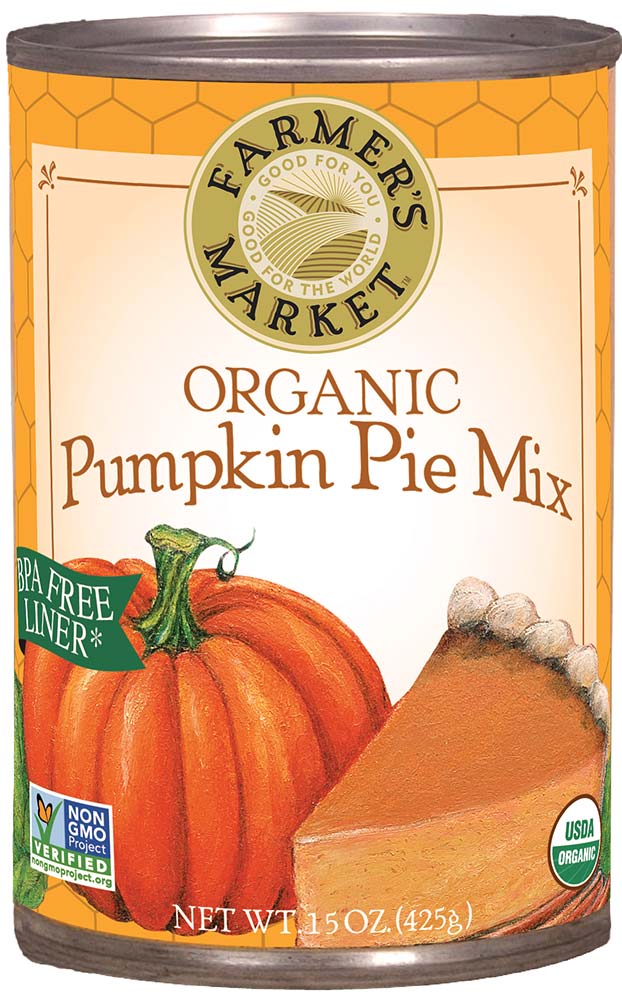 Organic Pumpkin Pie Mix
When it comes to sweetness and spice, nothing beats our mouth-watering Organic Pumpkin Pie Mix. This rich and smooth organic pumpkin puree is delicately mixed with spices and deliciously sweetened with cane sugar. Save time and ingredients by using the Pumpkin Pie Mix!
Chef's Tip
Pumpkin Pie Mix is great on its own too! Simply warm up our creamy puree and top with graham cracker crumbs for a delicious snack! You can also add it to milkshakes, smoothies and even craft cocktails for a pumpkin flavored beverage.
Certified organic pumpkin*, organic cane sugar, organic spices (cinnamon, nutmeg, ginger, cloves, allspice).
*Certified Organic by Oregon Tilth.
Related Recipes
Create With Farmer's Market
Our Products
Simple. Gourmet. Nutritious.
Farmer's Market Foods have the pure, fresh flavor you'd expect to find at a country produce stand. We grow the best vegetables organically, so that you can take home food that is good for you and good for the world. These rich, smooth purees are ready to use in everyday dishes from baked goods to entrées.
Featured Question
What's On Your Mind?
How long will pumpkin keep in the refrigerator after it is open?
We suggest storing it in an airtight container and consuming it within three days. Alternatively, you can portion it out into ice cube trays and freeze it. Once frozen, remove it from the tray and store in an airtight container for up to three months.
Good For You. Good For The World