Day 2 of Twelve Days of Pumpkin yielded this quick, yummy recipe.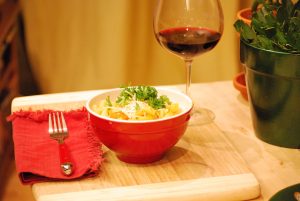 Ingredients:
1/2 chopped onion
1/2 chopped celery
2 large garlic cloves minced
2 tablespoons unsalted butter
1/2 cup Farmer's Market Organic Pumpkin
1 cup chicken broth
2 tablespoons heavy cream
grated nutmeg
1/2 pound penne
Fresh Parsley and Parmesan for garnish (optional)
(reserve 1/2 cup water from pasta)
Directions:
In a large skillet cook the onion, the celery, and the garlic in the butter over medium heat, stirring, until the onions are translucent. Add pumpkin, broth, cream, nutmeg, and salt and pepper to taste. Simmer the sauce, stirring occasionally, for 10 minutes. While the sauce is simmering, cook the penne pasta until it is al dente. Ladle out the reserve about 1/2 cup of the cooking water, and drain the penne well.
Add the penne to the sauce. Cook the mixture over moderate heat, stirring and thinning the sauce as desired with some of the reserved cooking water, for 1 to 2 minutes, or until the pasta is coated well. Stir in the parsley and Parmesan.