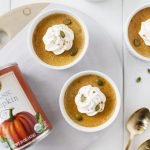 Pumpkin Spiced Pots de Creme
A delicious pumpkin custard, topped with whipped cream. Makes the perfect treat!
Ingredients
1

cup

heavy cream

3/4

cup

whole milk

1/2

cup

light brown sugar

packed

6

large egg yolks

1

teaspoon

pure vanilla extract

1/2

teaspoon

ground cinnamon

1/2

teaspoon

ground ginger

1/8

teaspoon

ground nutmeg

1/8

teaspoon

ground cloves

1/8

teaspoon

fine salt

Whipped cream

to garnish

Pumpkin seeds

to garnish
Instructions
Preheat the oven to 325(f) degrees. Boil a large kettle of water & set aside.

In a saucepan over medium heat whisk together the cream, milk, brown sugar & pumpkin. Bring to a gentle simmer.

In a large mixing bowl whisk together the egg yolks, vanilla, cinnamon, ginger, nutmeg, cloves & salt.

Slowly temper in the pumpkin mixture to the egg yolk mixture, whisking constantly. Pour the mixture through a fine-mesh sieve to ensure filling is silky smooth.

Evenly divide mixture amongst 6 to 8 ramekins (depending on the size of ramekin).

Transfer to a large baking dish & add the boiling water until it reaches halfway up the sides of the ramekins. Be careful to not get any water in the ramekins.

Bake for 30 to 35 minutes, until the center of the custard has a slight jiggle. Transfer to a cooling rack & let cool to room temperature. Chill in the refrigerator for a minimum of two hours before serving.

Garnish with whipped cream & pumpkin seeds!