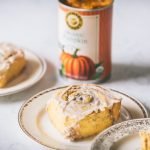 Pumpkin Cinnamon Rolls with Browned Butter Frosting
Ingredients
|| Rolls ||

2

cups

whole milk

1

cup

Farmer Market Foods Pumpkin Puree

½

cup

sugar

1

tablespoon

active dry yeast

6

cups

all purpose flour

divided

1

teaspoon

baking soda

½

teaspoon

salt

– butter or baking spray for coating pans –

|| Filling ||

1/2

cup

butter

room temperature

1

cup

sugar

2

tablespoons

cinnamon

1/2

teaspoon

all spice

|| Brown Butter Frosting ||

1

cup

butter

3

cups

powdered sugar

2

teaspoon

vanilla

3

tablespoons

cream
Instructions
Warm milk, pumpkin puree', and sugar in a medium sauce pan under medium heat. Whisk until mixture is 110 degrees (just above body temperature) and sugar is dissolved.

Remove from heat and sprinkle yeast on top and let sit for 5 minutes.

Pour mixture into a standing mixer with 4 cups of flour and combine until just incorporated. Cover with plastic wrap and set aside in a dry warm place to rise for one hour. The mixture should double in size.

In a separate bowl mix the sugar, cinnamon and all spice together for the filling and set aside.

Once the hour has past, add the rest of the flour, baking soda and salt to the dough and knead. The dough will be sticky but shouldn't be wet. Add more flour as needed. Cut in half and set one part aside.

Preheat the oven to 375 degrees.

Roll out one half of the dough into a long rectangle so that the dough is about 1/4th inch thick. Spread ¼ cup butter throughout the dough with an offset spatula.

Sprinkle half of the sugar/cinnamon mixture evenly on the dough making sure it reaches all edges. Roll the dough from the longest side to the longest end. Pinch the end of the dough to the roll to stay together.

Cut the dough into one-inch rolls and place into a buttered dish. Cover with a clean kitchen towel and set aside to proof for another 15 minutes.

Repeat same steps with the last half of the dough.

Place proofed cinnamon rolls in the oven for about 14-16 minutes. You do not want to over bake.

For the frosting, melt the butter over medium heat until it becomes frothy and the milk fats start to brown, about 5 minutes. Mix the browned butter in a bowl with the powdered sugar and vanilla. Drizzle in the cream until smooth. Spread on top of the warm cinnamon rolls.