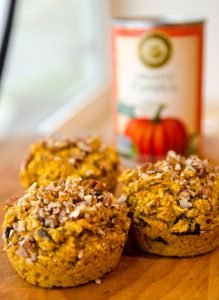 What to make:
Pumpkin Oatmeal Chocolate Chip Muffins
Why make them:
Keep these around for a slightly sweet breakfast option when you're in a rush or a mid-day snack between meals.
When to make them:
Winter is coming, and that means cozying up with a cup of tea and filling your home with comforting aromas. Why not endeavor on a weekend baking project filled with all things pumpkin?
How to make them:
1 cup flour
2 cups oats
1 tsp. nutmeg
1 tsp. cinnamon
1 cup Farmer's Market Pumpkin Puree
1 cup brown sugar
1 egg
2 tsps. vanilla extract
pinch of salt
2 tsps. baking powder
¾ cup semi-sweet chocolate chips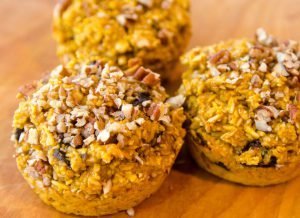 Directions:
Preheat oven to 350°F and prepare muffin tin with liners or a non-stick cooking spray.
Mix together the Farmer's Market Pumpkin Puree, brown sugar, egg and vanilla extract.
In a separate bowl, mix together the flour, oats, nutmeg, cinnamon, salt and baking powder.
Combine the two mixtures in one bowl. Add the chocolate chips, and fold them into the dough.
Fill the muffin tin with the mixture. Be sure to fill the tins nearly to the top as the dough will not rise.
Bake for 20-23 minutes. You can test the muffins by inserting a toothpick into the center of the muffin. If it comes out clean, they are ready to come out of the oven. Let the muffins cool for 20 minutes before removing from the tin.
Notes: We used Bob's Red Mill Gluten-free 1-to-1 Baking Flour as a our gluten-free alternative. We also used Coach's Oats because they tend to hold their shape in the baking process better than most oats. A certified gluten-free oat can also be used to make the entire recipe gluten-free. You can store your muffins in a sealed container in the refrigerator or make a large batch and freeze them in an air-tight bag.
Follow us on Instagram for more baking inspirations: https://www.instagram.com/farmersmarketfoods/