You won't believe these Sweet Potato Pecan Rolls are vegan! But that's not even the best thing about them. Vegan or not, these cinnamon rolls bring together delicious flavors in a flavorful cinnamon roll that owes it's texture to the silky texture of our organic sweet potato puree. We use brown sugar in our cinnamon filling to keep it from competing with the flavor of the sweet potato. We also incorporate the pecans in the filling, so be sure and use chopped pecans and not halved or whole pecans.
A few tips for this Sweet Potato Pecan Rolls recipe. Let the dough rise in a warm spot 30 minutes to one hour, but not more than one hour. Check your oven to see if it has a proof setting. If it does, that's a great place to let the dough rise since it's temperature controlled and won't rise too fast or slow. If your oven doesn't have a proof setting, the microwave is also a great place to let dough rise. When rolling the dough out, try to keep it as rectangular as possible, since round ends don't make great rolls. A long, skinny rectangle works best. When spreading the filling, don't go edge to edge–you need some bare dough to pinch into a seal after rolling the dough up.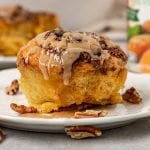 Sweet Potato Pecan Cinnamon Rolls
Ingredients
Sweet Potato Rolls:
⅔

cup

warmed almond milk

158 ml, not hot, just luke warm

1

packet

active dried or instant yeast

(7 grams or 2 ¼ tsp)

½

cup

Farmer's Market sweet potato purée

120 grams

⅓

cup

organic cane sugar

70 grams

¼

cup

melted vegan butter

57 grams

1

tsp

vanilla bean paste

6 grams, or 2 tsp vanilla extract

3 ¼- 3 ½

cups

all-purpose flour

(406- 437 grams)

1

tsp

salt

5 grams
Filling:
½

cup

butter

room temperature (113 grams, NOT melted but soft)

⅔

cup

brown sugar

133 grams

1

Tbsp

Cinnamon

(6 grams)

¾

cup

chopped pecans

70 grams
Maple Spice Glaze:
1 ½

Tbsp

maple syrup

30 grams

½

tsp

cinnamon

1 gram

1

Tbsp

almond milk

13 grams

1

cup

sifted powdered sugar

120 grams
Instructions
Making the Sweet Potato Dough:
Begin by adding your warmed almond milk and yeast to a large mixing bowl. Let sit for 3-5 minutes to make sure the yeast is activated. You will be able to tell if it's bubbling. If used instant yeast, you can skip the waiting period in this step as it's only needed if using active dried yeast.

Next, add the sweet potato purée, sugar, melted vegan butter, and vanilla to the large mixing bowl and whisk together to combine.

Once mixed, gradually begin adding in your flour about ½-1 cup at a time. Also, add in the 1 tsp of salt at this time.

Once all the flour has been added in, knead the dough. If using a standing mixer, switch the attachment to the bread hook and knead for 5-10 minutes until elastic. If you are kneading by hand, knead on a well-floured surface for 10-15 minutes or until the dough is elastic and significantly less sticky. (Since the dough has sweet potato in it, it will be stickier than normal bun dough, but should firm up a lot during kneading).

Once the bread is ready, add it to a well oiled bowl for the first rise. I prefer to coat my bowl in olive oil, but any oil works here. The dough will be sticky so you may want to flour your hands before grabbing the dough.

Then, cover the bowl with plastic wrap or a towel, place in a warm place, and let rise 30 minutes- 1 hour until doubled in size. I like to test my dough by "poking" it with a finger. If it doesn't bounce back and stays indented, it is ready. It is also important to not "overproof" the dough as it can turn sour from the yeast turning the sugar into alcohol, so do not let the dough sit too long (I found over 1 hour is too long for this dough).
Adding the Filling:
In a separate bowl, mash together the brown sugar, softened room temperature vegan butter, and cinnamon until a thick paste forms. This can also be done in a blender or food processor. Then, set aside and turn out the dough onto a well floured surface.

Roll the dough into a 1" thick rectangle that is around 9*14 inches. You don't want the dough to be too thin or you will have a hard time rolling it up once the filling is inside!

After the dough is rolled out, use a spatula to spread the cinnamon sugar filling evenly across the dough. Make sure to leave a 1/4 inch border around the edges of the dough without filling. Then, sprinkle the chopped pecans on top of the cinnamon sugar filling.

Beginning with the longer side of the rectangle, tightly roll up the dough into a log. Lightly flour the dough as you go to help if it gets a bit sticky. Make sure to seal the roll by pinching the edges together. Then, flip the dough over so the pinched seal is facing down.

Once the dough is rolled into a log, trim the ends and discard. Cut the remaining dough into 9-10 evenly sized rolls using a very sharp knife. Place the rolls into a large ceramic pan (I used a 14.5" oval pan), cover with plastic wrap or a towel, and let rest for another 20-30 minutes at room temperature while you preheat the oven. (You can also let the dough rise overnight in the fridge and bake in the morning).
Baking The Rolls:
Preheat the oven to 350F.

Once the oven is preheated, remove the plastic wrap or towel from the pan of rolls and add the pan to the oven. Bake the rolls for 30-35 minutes or until cooked through. Then, remove the rolls from the oven and let cool slightly. While the rolls are cooling, make the maple spice glaze!
Making the Maple Spice Glaze:
Add maple syrup, almond milk, and cinnamon to a small bowl and whisk together. Then, gradually add in the powdered sugar until a thick glaze forms. If needed, add in a little more milk for a thinner glaze or more powdered sugar for a thicker glaze. Overall, the glaze should be very thick.

Pour the glaze over the warm sweet potato rolls and serve immediately. Enjoy!
Recipe Notes
- This recipe can be made refined sugar-free by subbing coconut sugar or maple sugar for the granulated and brown sugar, though the result will be slightly less sweet.
- This recipe will not work with gluten-free flour
- If cutting the rolls smaller and baking in a larger pan (like a 9*13 inch pan with 12-15 rolls) decrease the baking time to 20-28 minutes.
This recipe was created for Farmer's Market Foods by Megan Horowitch of Short Girl Tall Order.