This Sweet Potato Chicken Curry recipe makes a great gluten-free meal, and you can make it even easier by using Stahlbush Island Farms sustainably farmed frozen diced onions, sliced carrots, and cut green beans! The sweet potato puree is used here as a thickener in place of the heavy cream or yogurt generally used by curries to give them their thick, chowder-like texture. Using sweet potato gives this recipe additional vitamins and minerals while adding fiber and keeping the calories and fat down. You can eat Sweet Potato Chicken Curry on it's own or with jasmine rice and some warm naan bread. Best of all, it only takes about 30 minutes to make start to finish, and it all cooks up in one pot!
Sweet potatoes are a great source of of vitamin A, vitamin C, and manganese into each serving. They also have anticancer properties and may promote immune function and offer other health benefits, such as digestive health. Best of all, sweet potato is easy to work into your diet in a variety of ways so you never get tired of it. It makes a great egg replacer or substitute for oil or butter in many baking recipes.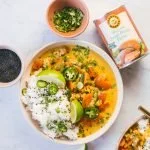 Sweet Potato Chicken Curry
Makes: 4-6 servings Prep Time: 15 minutes Cook Time: 15 minutes Total Time: 30 minutes
Ingredients
2

tablespoons

coconut oil

1

cup

yellow onion

chopped

1/3

cup

lemongrass

sliced

2

tablespoons

yellow curry powder

1

tablespoon

sugar

2

teaspoons

seasoning salt

3

chicken thighs

chopped

1

can coconut milk

1

cup

chicken broth

1 ½

cup

carrots

sliced

1 ½

cup

green beans

1 ½

cup

red bell pepper

chopped

1/3

cup

cilantro

chopped
Instructions
In a large Dutch oven set over medium/high heat, place in the coconut oil, onion, lemongrass, curry powder, sugar, and seasoning salt. Stir together and cook until the onions are translucent, about 3 minutes. Add in the raw chicken thigh, stir and continue to cook all the way through, about 5-7 minutes. Add in the sweet potato, coconut milk, and chicken broth. Bring to a boil.

Add in the carrots, green beans, and bell pepper. Cover and boil just until the veggies are cooked through but still firm, about 5 minutes.

Serve with jasmine rice.