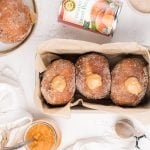 Sweet Potato Brionuts With Spiced Maple Tahini Filling
Ingredients
Dough
1

package of active yeast

1

teaspoon

cane sugar for yeast

1

cup

warm apple cider

(not hot or it will kill the yeast)

2 ¼

cups

all purpose flour

2

cups

bread flour

3

tablespoons

brown sugar

2

tablespoons

cane sugar

½

teaspoon

salt

2

teaspoons

cinnamon

⅛

teaspoon

cloves

⅛

teaspoon

nutmeg

1

egg - room temperature

4

egg yolks -room temperature

9

tablespoons

butter - room temperature
Pastry Cream Filling
1

cup

heavy cream

1 ½

cup

apple cider

2 ½

teaspoons

vanilla

½

teaspoon

cinnamon

⅛

teaspoon

nutmeg

⅛

teaspoon

cloves

4

tablespoons

butter

3

tablespoons

cornstarch

6

egg yolks

½

teaspoon

salt

3

tablespoon

brown sugar

3

tablespoons

cane sugar

¼

cup

tahini
Cinnamon Sugar
1 ¼

cup

of cane sugar + 1 teaspoon of cinnamon mixed together for rolling
Instructions
Filling
In a large saucepan over medium heat combine cider, heavy cream, and simmer to just before it comes to a boil.

In a bowl mix together sugar, salt, spices, cornstarch, and egg yolks. Make sure the bowl is a heatproof bowl.

Pour half of the liquid mixture into the bowl and whisk well to temper.

Add the mixture back into the saucepan and whisking constantly until the mixture thickens.

Once the mixture has thickened (it takes around 10 minutes) remove from heat and run the mixture through a fine mesh strainer to make sure there's no clumps.

Stir in tahini ,vanilla extract, and butter.

Place in a bowl and cover with plastic to prevent a layer of film from forming on the pastry cream. Store in fridge until cold.
Dough
Add yeast, warm cider, and 1 tablespoon of cane sugar to a stand mixer and let sit for 10-15 minutes or until foamy.

Attach the dough hook and add in flour, spices, and rest of the sugar.

Add in the egg, egg yolks, sweet potato puree, and vanilla extract to the bowl and mix until dough comes together and it's smooth.

Add the butter a little bit at a time. Increase the speed once the butter has been added and mix until smooth and soft, about 5 minutes. You could also knead the dough by hand at this point too.

Place the dough in a well oiled pan and cover. Place in a warm area and let rise until doubled in size, about an hour to an hour and half.

Once the dough is done rising place it on a well floured surface and divide into 12-14 balls. You can weight each dough ball to ensure they are the same size, if desired.

Place on a baking tray with a silicone baking mat or parchment paper and cover.

Allow the dough to proof again until double in size, about an hour.

Prepare a baking sheet with paper towels for the cooked donuts.

Before the donuts are done rising, heat a large dutch oven with cooking oil to 350. Use a candy thermometer to ensure the oil is the proper temperature and not too hot.

Fry each doughnut for 3-4 minutes on each side or until browned or until a cooking thermometer reads 190 internally.

Once done, let the donuts rest on the paper towels for about a minute to drain excess oil. Then roll them in the cinnamon and sugar mixture.

Fill a pastry bag with a piping tip attached with the pastry cream and fill each donut with pastry cream. Best if enjoyed that day.