This Pumpkin Mousse Pie is so creamy and delicious, no one will believe it's a no-bake pie! But that also means it's easy to make ahead for a totally stress-free special occasion dish. Pumpkin is a great addition to any dessert table since it's full of fiber, vitamins, minerals, and low in fat and calories. The maple whipped cream adds a touch of something different but doesn't increase the difficulty level at all. Puff pastry cut-outs are a fun addition that personalizes this dessert to the holiday or occasion.
Even though this pumpkin mousse pie is a no-bake pie, you'll still need the oven for one very important part–blind baking the crust! Whether you use a premade or homemade crust, blind baking ensures that the crust is crisp throughout and helps manage shrinking and bubbling during baking. Building up the edges of the crust with the scraps also helps make a beautiful edge that won't shrink down. Don't have pie weights? No sweat! You can use dry beans or sugar on a piece of parchment paper. Sugar can be reused in the is way several times, although it may brown over time. Once it browns, you can use it in cookies or brownies to add a subtle caramel flavor. Delish!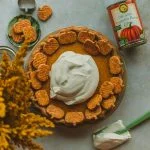 Pumpkin Mousse Pie with Maple Whipped Cream
Ingredients
For the Pie crust
1 1/2

cup

Flour

2

tsp

Sugar

1/2

cup

Butter

chilled and cubed

1/4

cup

Buttermilk
For the Mousse
2

tsp

Gelatin powder

unflavored

1/4

cup

Water

cold

5

Egg yolks

large

1/2

cup

Cream

3/4

cup

Sugar

granulated

2

tsp

Vanilla bean paste

1 1/2

tsp

Cinnamon

ground

1/2

tsp

Nutmeg

freshly grated

1/4

tsp

Sea salt
For the Maple Whipped Cream
1/2

cup

Cream

2

tsp

Maple syrup

1

Puff pastry

frozen
Instructions
For the crust
Work the chilled butter into the flour and sugar.

Add the buttermilk and toss together until a shaggy dough appears. Turn out onto a clean work surface and together into a disk. 

Wrap the disk and let it rest in the fridge for one hour.

Roll out the dough into a long triangle and fold one short end to the middle and the other short end to the middle. Then fold into a book. Turn the dough and roll out again into a long rectangle. Fold the short end to the middle and the other short end to the middle and fold like a book. Wrap and chill again for another 30 minutes.

Preheat the oven to 400 degrees.

Roll out the dough into a 10-inch circle. Form in an 8-inch pie plate and crimp the edges. Line the crust with parchment paper and fill with pie weights or dried beans. 

Bake in the preheated oven for 15 minutes, then remove the pie weights and reduce the oven temperature to 375 degrees. Continue to bake until golden brown, about 25-30 minutes.
For the mousse
In a small bowl, add gelatin and water; stir to combine and set aside to allow gelatin to bloom.          

 In a medium saucepan set over medium heat, add yolks, ½ cup cream, sugar, pumpkin puree, vanilla, spices, and salt. Cook, stirring constantly with a silicone spatula, until mixture thickens, about 5 minutes.

Whisk gelatin and water into pumpkin mixture and refrigerate for about 15 minutes. Once the mixture has come to room temperature, whisk the egg whites to medium peaks and fold into the pumpkin mixture.

Dump into the pie shell and let chill in the fridge, uncovered at least 4 hours but is best overnight.

Whip the whipping cream and maple syrup together right before serving.
For the puff pastry pumpkins
Cut the prepared puff pastry into small pumpkins and place on a baking sheet.

Top the entire baking sheet with another baking sheet and bake in a 400-degree oven for 10 minutes.