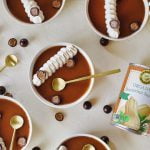 Butternutscotch Custard with Fresh Whipped Cream
This recipe yields the most beautiful pudding-like custard with a wonderful balance of butternut squash and butterscotch. Topped with a bit of fresh caramel sauce and fluffy whipped cream, this simple dessert will stun, any day of the week.
Ingredients
1 1/2

C

Whole Milk

1

C

Heavy Cream

3

lg Egg Yolks

2

T

Cornstarch

3/4

C

Dark Brown Sugar

3

T

Water

1/2

t

Kosher Salt

3

T

Unsalted Butter

room temp

1

t

Vanilla Extract

1

C

Caramel Sauce

2

C

Heavy Cream

1/4

C

Powdered Sugar

1/2

t

Vanilla Extract
Instructions
In a blender, combine the butternut squash, milk, and cream. Pulse to combine, and blend for 30-45 seconds. Reserve for later use.

In a bowl, whisk together the egg yolks and corn starch, reserve.

In a heavy-bottomed pot, whisk together the sugar, water, and salt, and place over medium heat on the stove. Without stirring further cook the sugar mixture for 5 minutes. Slowly add the milk and cream mixture to the sugar, whisking constantly. Do the slowly as the mixture will pop and bubble as you do this. Bring the mixture to a boil.

Drip by drip, drizzle in 1/2 a cup of the boiling mixture into the whisked egg yolks and cornstarch. Whisking constantly so the eggs don't scramble, this is a temper of the eggs. Reduce the heat on the milk mixture to low and whisk in the eggs. Continue whisking for 1 minute as the mixture becomes thick. Remove from the heat and whisk in the butter and vanilla.

Pour the mixture into the serving glasses or bowls. Fill 6, 6oz bowls halfway and cover tightly with plastic wrap touching the top of the pudding to prevent a skin from forming. Refrigerate for 4-6 hours, or overnight until chilled and thickened.

Make the whipped cream by beating the heavy cream and powdered sugar together until thick and creamy, fold in the vanilla.

To serve, top each bowl with a couple of tablespoons of caramel sauce and a dollop of whipped cream.