Butternut squash layer cake maybe isn't something you'd ever thought you'd make…I mean, butternut squash in a cake? But if you've ever tasted our butternut squash, it makes sense. Thick, mild, and velvety, it holds moisture so well you'll be surprised you've never used it in a cake until now! In fact, our organic butternut squash puree does so well in baked goods, you can use it as a swap for eggs, oil, or butter. In this three-ingredient muffin recipe, it's all you need!
Here are a few pro tips for assembling this butternut squash layer cake: to make sure your cake releases, place parchment paper in the bottom of the cake pan and butter both sides. When icing your cake, spread a thin layer of icing all over the outside, then refrigerate the cake until the icing firms up before icing the rest of the cake. That way, your icing won't tear up those delicate cake layers!
Butternut squash imparts many of the same nutritional benefits of pumpkin, including being low in calories, fat, and high in fiber. The vitamins and nutrients it contains helps support weight loss, eye health, bone health, digestion, and the health of the immune system. Check out all our recipes for butternut squash here.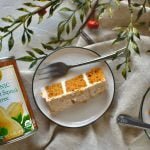 Butternut Squash Layer Cake
Ingredients
For the Cake:
3

cups

flour

all-purpose

2

tsp

Baking powder

1

tsp

Baking soda

1 1/2

tsp

Salt

kosher

1

tbsp

Cinnamon

2

tsp

Ginger

ground

1

tsp

Cardamom

ground

1/2

tsp

Allspice

1/2

tsp

Nutmeg

fresh grated

1/4

tsp

Black pepper

ground

1

tsp

Turmeric

ground

1

cup

Sunflower oil

1 1/2

cups

Sugar

granulated

1

tbsp

Vanilla

extract

4

Eggs

large
For the Frosting:
24

tbsp

Butter (3 sticks)

unsalted, room temperature

4

oz

Cream cheese

room temperature

2

cups

Powdered Sugar

1/2

cup

Maple syrup

1

tsp

Vanilla Extract

1

tsp

Spice mix

reserved from cake recipe
Instructions
For the Cake:
Preheat oven to 350˚F and grease 3, 6-inch round cake pans with butter and line them with parchment paper on the bottom. Butter the parchment paper on top and bottom.

Stir the cinnamon, ginger, cardamom, all-spice, nutmeg, and pepper together in a small bowl. Reserve 1 teaspoon of the mixture for the frosting.

In the bowl of a stand mixer beat together the oil, sugar, vanilla, eggs, and Butternut Squash Puree until combined. Add in the flour, baking powder, baking soda, salt, and the spice mixture, minus 1 teaspoon. Stir on low for 1 minute until no flour lumps remain.

Pour the batter into the cake pans spreading it evenly between them.

Bake 30-40 minutes, until the tops are just set, and no longer wiggly in the center. Remove and let cool 10-15 minutes, then run a knife around the edges of the pan and turn the cakes out onto a cooling rack. Cover and let the cakes cool completely before assembling.

If your cakes have domed, trim the tops to make them level and even.
For the Frosting:
Add 2 sticks butter to a skillet, set over medium heat. Allow the butter to brown lightly until it smells toasted, about 2-3 minutes. Stir often.

Remove from the heat and transfer the butter to the mixing bowl, let cool until it has solidified at room temperature.

Add the remaining stick of room temperature butter and the cream cheese to the bowl.

Beat the cooled brown butter, butter and cream cheese together for 2 minutes until light and fluffy.

Add the powdered sugar and maple syrup to the bowl and continue beating together. 

Add the vanilla and reserved spice mix and beat until well combined. 
To Assemble:
Place one cake layer on a serving plate. 

Spread 1/3 of the buttercream over the cake. Repeat with the remaining 2 cake layers.

Frost the outside of the cake and chill 30 minutes up to overnight. Cake will keep in the fridge for up to 4 days.