This Butternut Custard recipe yields the most beautiful pudding-like custard with a wonderful balance of butternut squash and butterscotch. Topped with a bit of fresh caramel sauce and fluffy whipped cream, this simple dessert will stun any crowd! Tempering the eggs is an important step in this recipe. If you don't do this, the eggs will scramble! But if you mix in the hot custard mixture slowly, you can incorporate the eggs without them cooking. It's a similar process to making homemade eggnog. It's an important step because we need the eggs here to hold the custard together just like in a cheesecake. Once the eggs have been slowly brought up to temperature, they can be easily incorporated into the custard.
To make your own whipped cream (don't skip this step because it's worth it! You'll want to make sure the cream is super cold before you begin! if the heavy cream isn't cold enough you can whip all day and nothing will happen. You can make sure your cream is ready by pouring it into the mixing bowl and putting the whole thing in the fridge before you start. Sometimes, just pouring the refrigerated cream into a warm or even room-temperature bowl is enough to make it warm enough.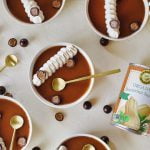 Butternutscotch Custard with Fresh Whipped Cream
Ingredients
1/2

C


Notice: Undefined variable: nofollow in /srv/users/farmersmarketfood/apps/farmersmarketfood/public/wp-content/plugins/wp-recipe-maker/includes/public/deprecated/class-wprm-template-helper.php on line 116
Farmers Market Foods Butternut Squash

1 1/2

C

Whole Milk

1

C

Heavy Cream

3

lg Egg Yolks

2

T

Cornstarch

3/4

C

Dark Brown Sugar

3

T

Water

1/2

t

Kosher Salt

3

T

Unsalted Butter

room temp

1

t

Vanilla Extract

1

C

Caramel Sauce

2

C

Heavy Cream

1/4

C

Powdered Sugar

1/2

t

Vanilla Extract
Instructions
In a blender, combine the butternut squash, milk, and cream. Pulse to combine, and blend for 30-45 seconds. Reserve for later use.

In a bowl, whisk together the egg yolks and corn starch, reserve.

In a heavy-bottomed pot, whisk together the sugar, water, and salt, and place over medium heat on the stove. Without stirring further cook the sugar mixture for 5 minutes. Slowly add the milk and cream mixture to the sugar, whisking constantly. Do the slowly as the mixture will pop and bubble as you do this. Bring the mixture to a boil.

Drip by drip, drizzle in 1/2 a cup of the boiling mixture into the whisked egg yolks and cornstarch. Whisking constantly so the eggs don't scramble, this is a temper of the eggs. Reduce the heat on the milk mixture to low and whisk in the eggs. Continue whisking for 1 minute as the mixture becomes thick. Remove from the heat and whisk in the butter and vanilla.

Pour the mixture into the serving glasses or bowls. Fill 6, 6oz bowls halfway and cover tightly with plastic wrap touching the top of the pudding to prevent a skin from forming. Refrigerate for 4-6 hours, or overnight until chilled and thickened.

Make the whipped cream by beating the heavy cream and powdered sugar together until thick and creamy, fold in the vanilla.

To serve, top each bowl with a couple of tablespoons of caramel sauce and a dollop of whipped cream.