If you're tired of the same old sweet potato casserole at the holidays (although we have a great recipe if you need one!) give this Sweet Potato Soufflé a try! it's easy to make dairy free–just use oat or almond milk. You can also easily adjust the sugar to your taste. If you think sweet potato puree is sweet enough on its own, just cut the sugar by half. Using Farmer's Market Sweet Potato Puree in this recipe really cuts down on prep time, since recipes that call for whole sweet potatoes require you to bake and mash them first, so they can take up to two hours while ours takes less than half that.
If you have a recipe like this Sweet Potato Soufflé that calls for whole sweet potatoes and you want to substitute puree, here's a handy guide. Cooking and mashing 1 large sweet potato will get you around 1 cup of sweet potato puree. One cup is 8 oz, and a can of Farmer's Market Sweet Potato Puree is 15 ounces, so about a cup and a half. So if a recipe calls for 5 whole sweet potatoes, you'd want to use about 3 cans of Farmer's Market sweet potato.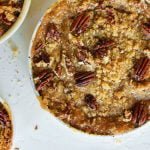 Sweet Potato Soufflé
Ingredients
For the soufflé:
2 15

oz

cans Farmers Market Foods Organic Sweet Potato

3

lg Eggs

2

t

Vanilla Extract

1 1/4

C

Granulated Sugar

1/3

C

Whole Milk

12

T

Unsalted Butter

very soft, not melted
For the crumble:
1 1/2

C

Pecans

chopped

4

T

Butter

1 1/4

C

Brown Sugar

1/2

C

All-Purpose Flour
Instructions
Preheat the oven to 350˚F.

In a large bowl, fold together the softened butter and the sweet potatoes with a spatula. Add the eggs, vanilla, sugar, and milk, and stir until well combined. Place the sweet potato mixture in a 9x9 glass casserole dish or deep pie pan. Alternatively use 2 shallow pie pan or it will overflow.

In another bowl, rub the butter into the brown sugar, and flour until it clumps together when pressed in your hand. Add in the pecan and mix to combine.

Cover the sweet potato mixture with the pecan crumble and place in the preheated oven for 30-35 minutes. Bake until the mixture has fluffed and the crumble is caramelized.

Allow to cool about 10 minutes and serve directly from the pan.