One summer I was doing one of those work out boot camps, and this one gal had a tank top that said "Push-ups & Prosecco" and I remember spending the whole class thinking "Wow, that girl really likes ham." Well, this Spring Pea Pumpkin Risotto recipe has prosciutto, not Prosecco, which are not anything alike unless you haven't seen them spelled out until a boot camp workout class that's really early in the morning. You'll love that this recipe comes together quickly in one pot, and we love that it features pumpkin in the spring! There really just are not enough pumpkin recipes for use outside of fall, and we think pumpkin definitely deserves love all year round. And not just because we grow it, either!
Pumpkin is chock full of health benefits. It's rich in vitamin A, which is really great for your vision and strengthening your immune system. Just one serving can provide more than 200% of your daily recommended intake of vitamin A! It also contains lutein and zeaxanthin, compounds that protect your eyes from age-related macular degeneration and cataracts. Pumpkins also contain carotenoids, which combat the effects of free radicals in your body, which may help protect against certain types of cancer.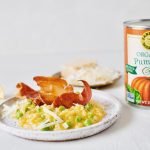 Spring Pea, Prosciutto & Pumpkin Risotto
Ingredients
5

cups

Chicken Broth

1

teaspoon

Olive Oil

1

small Onion

fine diced

1

large Galic clove

minced

1

cup

Arborio Rice

1/2

cup

Sauvion Blanc white wine

1/8

teaspoon

Nutmeg

1

cup

Parmigiano Reggiano

shredded

2

small Meyer Lemons

zested

Kosher Salt & Black Pepper

to taste

1, 12

ounce

package fresh English Peas

1, 3

ounce

package natural Prosciutto
Instructions
Preheat the oven to 350˚F.

Place the prosciutto on a parchment-lined baking tray and cook in the preheated oven for abut 10 minutes until crisp. Remove from the oven and let cool. Break the pieces into shards and set aside for later use.

In a 2 quart sauce pot warm the chicken broth until steaming, do not boil.

In a 4 quart nonstick pot or dutch oven, warm the olive oil over medium-low heat.

Add the onion and garlic to the pot and cook until the onion becomes soft and translucent.

Stir in the rice and coat with the oil. Add the wine and cook until it has mostly evaporated out of the pan.

Add 1 cup of the broth and the nutmeg to the pot. Stir often until almost all of the liquid has been absorbed. Repeat the step until all of the stock has been used, stirring often, until the rice is almost tender, but has a slight bite to it still.

Stir peas and simmer in the rice mixture for about 5 minutes. Add the pumpkin, parmesan, lemon zest, and some salt (about a teaspoon) and pepper (about a 1/2 teaspoon). Taste and adjust the seasoning if needed. I usually add more salt.

Serve the risotto on a plate with shards of prosciutto pressed in the middle and a squeeze of lemon juice.