This pumpkin vinaigrette is amazing on salads of all kinds, and it's a great replacement for fatty, dairy-based dressings. The sweet pumpkin and touch of maple syrup balances the tang from rich Dijon mustard and apple cider vinegar. You can whip this up with just a few ingredients and a Mason jar. It's so easy you'll want to have it on hand all the time! This dressing goes great with a variety of salads. Chefs recommend adding your dressing to the bowl first, and then your salad ingredients. Toss and serve for the perfect dressing distribution! Need some salad inspiration? Try this Harvest Wild Rice Salad.
Vinaigrette is a healthier choice than creamy salad dressings, and many of the ingredients in this one have healthy properties that benefit your body. Apple cider vinegar has beneficial health properties, including antimicrobial and antioxidant effects. Olive oil is a heart-healthy oil, and organic pumpkin contains Vitamin A, fiber, potassium, and other minerals. In addition, this pumpkin vinaigrette recipe has no added sugar, making it a great choice for Whole 30 and keto adherents.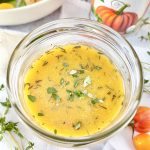 Pumpkin Vinaigrette
Enjoy pumpkin year-round with this vibrant dressing that is both easy and delicious. The maple syrup adds a subtle sweetness and the Dijon adds a little tang. If you have fresh thyme on hand, feel free to substitute it for the dried herbs.
Ingredients
1/4

cup

Apple cider vinegar

2

tbsp

Maple syrup

1

tsp

Dijon mustard

1/2

cup

Extra virgin olive oil

1

tsp

Thyme

Salt and Pepper to taste
Instructions
Combine all ingredients in a Mason jar

Fasten lid and shake vigorously

Taste, adjust salt and pepper if necessary.

Dressing can be stored in the refrigerator for a week. Shake vigorously before each use.