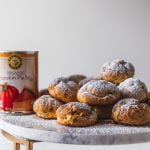 Pumpkin Pie Cream Puffs
Ingredients
½

cup

butter

½

cup

water

½

cup

milk

1

cup

flour

4

eggs plus 1 egg for egg wash

½

can Farmers Market Foods Pumpkin Pie Mix

1/3

cup

sweetened condensed milk

1

egg

1

teaspoon

unflavored gelatin

¼

cup

water

1

cup

whipping cream

Powdered sugar for topping
Instructions
Preheat the oven to 400 degrees.

In a medium saucepan over medium/high heat, melt the butter in the water and milk. Add in the flour and mix together with a spatula. Continue to cook down for 5 minutes. Take off the heat and let cool 10-15 minutes. With a hand mixer, mix the batter to release some steam and add in the eggs one at a time mixing well between additions.

Mix the additional egg with 1 tablespoon water in a separate bowl.

Scoop about 2 tablespoons of the choux into a lined baking sheet 2 inches apart. Brush each ball of dough gently with the egg wash.

Bake in the 400 degree oven for 20 minutes then lower the heat to 350 degrees and continue to bake for another 10-15 minutes.

Mix the unflavored gelatin with the cold water and set aside to bloom.

In a medium saucepan over medium heat, cook the pumpkin pie mix, sweetened condensed milk and egg together, stirring continuously until thickened, about 5 minutes. Take off the heat and mix in the bloomed gelatin. Set aside to cool to room temperature.

Whip the whipping cream into soft peaks. Do not over whip. Fold into the cooled whipping cream until smooth. Place into a piping bag with a filling attachment.

Pipe the filling into the cream puffs and place into the fridge to set for 2 hours.

Top with powdered sugar and serve cold.