These Pumpkin Chocolate Cupcakes come with a twist–a chocolate buttercream swirl twist that's easy to do and fun to serve. The icing effect is made by using a pastry bag, but there are several different ways to get this effect, depending on how much you want the icings to overlap. For a more defined color block, such as in the photo, use two smaller pastry bags inside a larger one. This will keep the icing from mixing until it exits the bag. If you want more of an ombre effect, spoon the two icing flavors into the same pastry bag on different sides. Use a spatula to blend the middle section as much as you'd like for a softer line.
This Pumpkin Chocolate Cupcakes recipe is made with our very own organic pumpkin pie mix. Although you normally don't want to bake with pie mix as opposed to pumpkin puree, this recipe was specially developed for use with our pie mix. Our pie mix takes our staple organic pumpkin puree and adds just enough sugar, nutmeg and cinnamon to produce the perfect pumpkin pie! We make it easy so that your pies turn out perfect every time. Our pumpkin pie mix also works great in homemade coffee creamer and other desserts.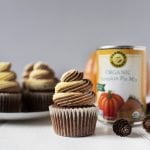 Pumpkin Chocolate Twist Cupcakes
Ingredients
For the cupcakes:
1 1/2

cups

all-purpose flour

2

teaspoons

baking powder

1/2

teaspoon

fine salt

1

cup

granulated sugar

1/2

cup

vegetable oil

1/3

cup

pumpkin pie mix

1

teaspoon

pure vanilla extract

1/3

cup

cocoa powder

2

large eggs

room temperature

1/2

cup

whole milk

1/2

cup

boiling water
For the frosting:
2

cups

unsalted butter

room temperature

4

cups

powdered sugar

or to taste

2

tablespoons

pumpkin pie mix

4

ounces

dark chocolate

melted & cooled
Instructions
For the cupcakes:
Preheat oven to 350(f) degrees. Line two 12-tin cupcake trays with parchment liners.

In a medium size mixing bowl, sift together the flour, baking powder, salt & sugar.

In a separate large mixing bowl whisk together the oil, pumpkin pie mix, vanilla extract, cocoa powder, eggs & milk until well combined.

Add the flour mixture to the wet ingredients & stir until batter comes together. Slowly pour in the boiling water & continue stirring until fully incorporated.

Evenly divide batter amongst the prepared cupcake trays. Bake for 18 to 20 minutes, until the top bounces back to touch. Set aside to cool completely before frosting.
For the frosting:
To the bowl of a stand mixer fitted with the paddle attachment add the butter, sugar & pumpkin pie mix. Beat until light & fluffy, about 4 to 5 minutes.

Remove half the buttercream & set aside. Add the dark chocolate & beat until incorporated, about 60 seconds.

To a piping bag fitting with a star tip add the pumpkin buttercream to one side & the chocolate buttercream to the other side. Pipe cupcakes as desired & enjoy!