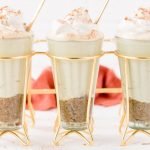 Chai Butternut Squash Mousse Cups
Ingredients
Crust
5

tablespoons

coconut oil

½

teaspoon

cinnamon

3

tablespoons

brown sugar

3

tablespoons

cane sugar

Sprinkle of sea salt

1

cup

+ 3 tablespoons of almond flour

½

cup

old fashioned oats

1

teaspoon

vanilla
Filling
8

oz

cream cheese softened at room temperature

2 ½

tablespoons

cane sugar

½

tablespoon

brown sugar

2 ½

teaspoons

vanilla

¼

teaspoon

cinnamon

Sprinkle of sea salt
Crumble
½

cup

+ 1 ½ tablespoons of oats pulsed

⅛

teaspoon

baking powder

3

tablespoons

almond flour

¼

teaspoon

cinnamon

2

tablespoons

coconut oil

6

teaspoons

cane sugar

6

teaspoons

brown sugar

¼

teaspoon

vanilla extract

Sprinkle of sea salt
Whipped cream ** infuse ahead of time so the liquid has time to chill in order to whip it
2

cups

heavy whipping cream

3

teaspoons

loose leaf chai, either in a bag or tea strainer

4

teaspoons

cane sugar

1

teaspoon

vanilla extract

Sprinkle of sea salt
Instructions
Whipped cream
With the tea in a strainer, add heavy cream to a medium sized saucepan and simmer over medium heat. Slightly before the mixture comes to a boil, reduce the heat and allow the heavy cream to simmer while the flavors infuse for about 5 minutes.

Remove from heat and let cool. Discard the chai. Store in the fridge for at least 2-3 hours or until very cold.

Whip the whipped cream in a stand mixer or with a hand mixer until it forms a soft peak add in sugar, vanilla, and sea salt and whip until stiff peaks form. CAUTION: do not whip too long or mixture will turn into butter.
Crust
Add all of the ingredients for the crust together in a food processor and pulse until the mixture comes together. Set aside.
Crumble
Preheat the oven to 350 degrees.

Prepare a baking tray with parchment paper or silicone baking mat.

Mix all of the ingredients together in a bowl.

Bake for 10 minutes or until slightly golden brown.

Allow to cool and then crumble with your hands.
Filling
Cream the cream cheese in a stand mixer or with a hand mixer.

Then add the rest of the ingredients for the filling together and mix well.

Fold in half of the whipped cream and leave the other half for the topping.

Add a scoop of crust into a small jar or small sundae glasses.

Fill each jar or small sundae glass to the top with the filling a top off with whipped cream and crumble.