Our Butternut Squash Pappardelle is super simple and easy to make up in one pot, but don't take that to mean that it's not complex! The flavors of our Organic Butternut Squash blends with parmesan cheese, garlic, sage, and rosemary for a deliciously rich pasta dish with a rich, buttery sauce. Add pine nuts, sunflower seeds, pumpkin seeds, or whatever nuts and seeds you enjoy on top.
Butternut squash is a great companion to pasta because it has additional fiber that helps mitigate the carbs in the pasta, keeping you from having that post-pasta slump. Butternut squash also contains beta carotene, calcium, iron, and potassium, all essential nutrients that help fight disease. Lutein and zeaxanthin, found in butternut squash, could help maintain cognitive health. Lutein and zeaxanthin are the only two carotenoids that can cross the blood-retina barrier to form macular pigment in the eye. Butternut squash also contains both soluble and insoluble fiber. Insoluble fiber speeds up the passage of foods through the stomach and intestines; soluble fiber holds onto water and turns into gel during digestion. It slows digestion and nutrient absorption from the stomach and intestines. Soluble fiber can help lower cholesterol by binding to cholesterol and transporting it out of the body.
Love this Butternut Squash Pappardelle? Check out all our other butternut squash recipes.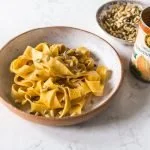 Browned Butter Butternut Squash in Pappardelle
Ingredients
¼

cup

butter

2

garlic cloves

smashed

1

rosemary sprig

6

sage leaves

1

cup

butternut squash puree

¼

cup

cream

½

cup

parmesan

shredded

1

teaspoon

salt

9

ounces

pappardelle

Pine nuts, sunflower seeds, and pumpkin seeds for topping.
Instructions
Cook pasta to package directions, reserve about ½ cup of the pasta water.

In a large skillet, over medium heat, cook the butter, garlic cloves, rosemary and sage until the butter starts to brown. Remove the garlic, rosemary and sage - then add the butternut squash, cream, and parmesan cheese. Cook together while stirring until the sauce is uniform.

Add the cooked pappardelle to the sauce and toss together, using the pasta water to thin out the sauce as needed. Add salt to taste. Top with nuts of choice.