Brown Butter Pumpkin Pie is the perfect recipe for those occasions when you want to make something traditional, like at Thanksgiving or Christmas, but you still want it to wow! This recipe can be made ahead of time and keeps it easy! It only takes one or two extra steps and the result is anything but ordinary–we would know because at Farmer's Market, we're the pumpkin experts. We've been growing pumpkins and refining our own organic variety since 1985, and it shows in the quality, taste, and texture of our pumpkin puree.
We've never let anything interfere with the quality of our product–that's why we were the first brand to feature BPA-free can liners. We don't add anything, ever, not even water, so you can be sure that you're getting the purest product available. That's what makes our organic pumpkin puree a favorite of Half Baked Harvest blogger Tieghan Gerard. She says it's so good, that after making her own she decided she's rather just use Farmer's Market Organic Pumpkin Puree. One of the benefits of canned purees is that it's consistent, unlike when you make your own. Water content of pumpkins can vary widely by growing region, variety, and the weather, but industrial purees account for that during production and test for quality so that you can be sure your baked goods turn out right every time.
Want to make a dairy-free version of this brown butter pumpkin pie? Check out these handy substitutes for heavy cream.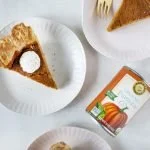 Brown Butter Pumpkin Pie
Ingredients
6

tbsp

Butter

unsalted

1

cup

Brown sugar

light

2

Eggs

large

2

Egg yolks

large

3/4

cup

Whipping Cream

2

tsp

Vanilla extract

2

tsp

Pumpkin pie spice

1/2

tsp

Salt

fine

1

9" pie crust

chilled

Whipped Cream

for serving
Instructions
Preheat the oven to 350(f) degrees.

Melt the butter over medium heat. Stirring constantly, continue cooking until the butter begins to foam & has a toasted aroma. Watch carefully as the butter will go from brown to burnt very quickly. Once browned, remove from heat & strain into a mixing bowl.

Whisk in the sugar, eggs, egg yolks, pumpkin, cream, vanilla, pumpkin pie spice & salt until well combined.

Transfer filling to the prepared pie crust. 

Bake for 50 to 55 minutes, until the edges have set & the center still has a slight jiggle. Let rest at room temperature for a minimum of 4 hours. 

Chill until ready to serve. Slice & top with a dollop of whipped cream.