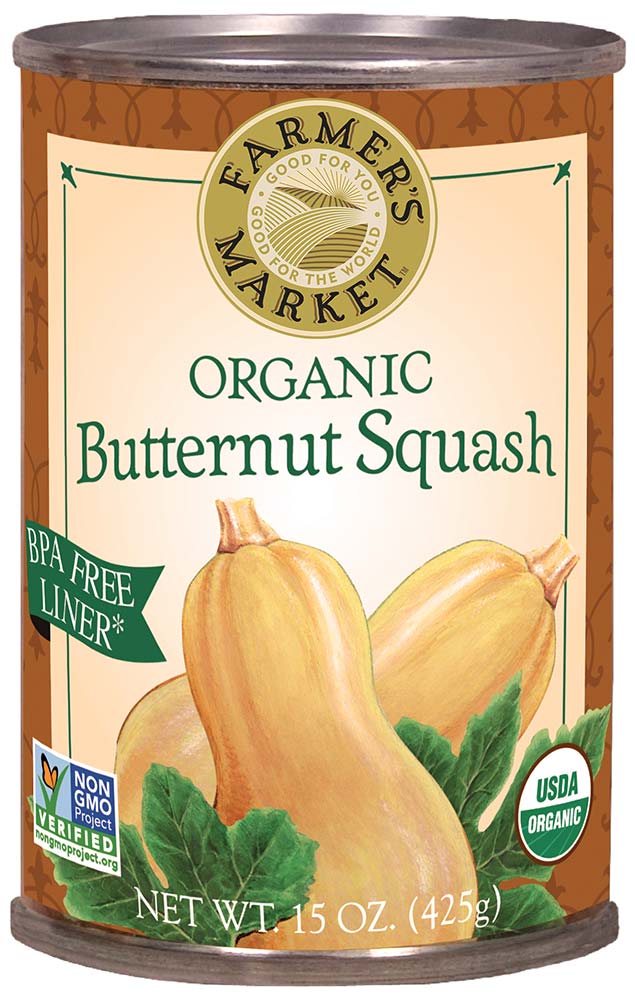 Organic Butternut Squash
Thanks to Farmer's Market Organic Butternut Squash, everyone can enjoy the sweet flavor and silky texture of this rich and popular squash all year long without the hassle. We've eliminated the difficulty in preparing butternut squash by cracking the "nut" ourselves and creating this amazing and versatile puree. We're seeing it used more than ever in homemade recipes.  It's also popping up on more restaurant menus as a featured main dish. Try it today!
Chef's Tip:
Butternut squash puree is great on its own too! Simply warm up our creamy puree and top with maple syrup and cinnamon for a sweet treat!
Certified Organic Butternut Squash*
*Certified Organic by Oregon Tilth
Calories per serving 42
Calories from fat 0
Serving Size ½ cup (123g)
Cholesterol 0mg 0%
Sodium 5 mg 0%
Total Carbohydrate 10g 3%
Dietary Fiber 4g 16%
Total Sugars 4g
Protein 1g
Vitamin A 380%
Vitamin C 8%
Calcium 4%
Iron 10%
Related Recipes
Create With Farmer's Market
Our Products
Simple. Gourmet. Nutritious.
Farmer's Market Foods have the pure, fresh flavor you'd expect to find at a country produce stand. We grow the best vegetables organically, so that you can take home food that is good for you and good for the world. These rich, smooth purees are ready to use in everyday dishes from baked goods to entrées. We're a small, family-owned farm invested in organic farming and sustainable practices that will ensure our farm is healthy and producing for generations to come.
Find our purees in a store near you using our Store Locator, or buy online at Amazon and other online grocery retailers.
Good For You. Good For The World